Crop Circle Information Centre
In its new, permanent Honeystreet home the Crop Circle Information and Research Centre has established itself as the place to go for all the latest information on crop circles and feedback from the farming community. Here you can learn all about crop circles, meet researchers, experts and enthousiasts and hear the latest.
Attached to the centre is the (brand new) Honeystreet Farm shop and the India shop. At the adjoining Honeystreet Mill Cafe with garden-terraces along the canal, you can enjoy a wide range of delightful refreshments, fresh salads, soups and some unique dishes.
The information and research centre is located in Honeystreet Village, in the heart of the Pewsey Vale, the historical heart of the crop circle phenomenon.
We have teamed up with Visit Pewsey Vale, and therefore can provide you with all information about the beautiful and ancient landscape of the Vale, its villages, places to stay, to eat, things to do and the ancient history.  
As a Walkers are Welcome destination, the Vale has varied and good quality walking, with plenty of documented walking routes for you to follow. 
Scan the QR code below to find the location of our Centre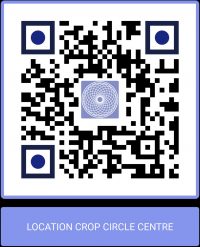 The historical multi-exhibition on the first floor features the key facts of crop circle phenomenon and mixes it with stunning photography. It informs via text, footage, videos about the history, facts, research, theories and ideas regarding the crop circle phenomenon. On display is a large selection of high quality photos of some of the most intricate and perplexing crop circles. 
The focus of the exhibition lies in the unexplained part of the phenomenon. The man-made element is also covered.
The exhibition is compiled and curated by researchers Monique Klinkenbergh and Andreas Mueller. Various contributions and support from many other national and international scientists, researchers and photographers have been gratefully received.